A Team That Responds Quickly to Mold Damage in Your Farmington Home
6/24/2018 (Permalink)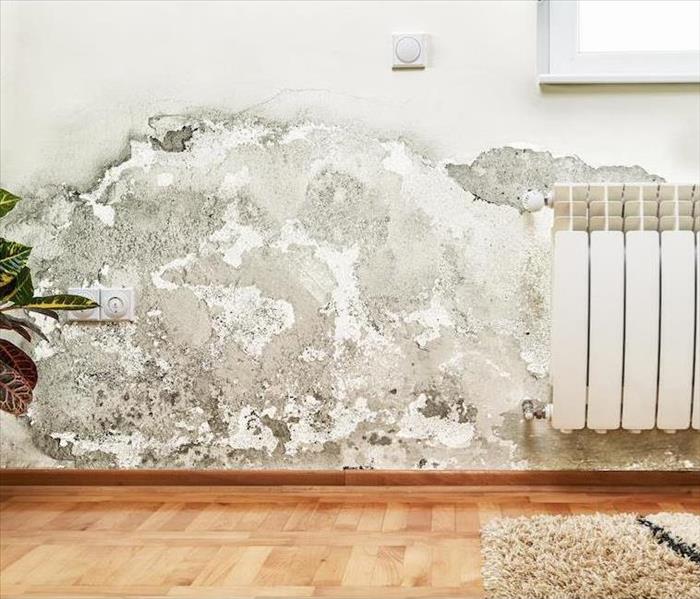 Sometimes you only smell and not necessarily see a mold infestation. Contact SERVPRO to investigate and remediate.
SERVPRO Technicians Effectively Find and Remediate a Mold Infestation Behind Walls in Your Home
While you might be mindful of water leaks and drips throughout your Farmington home, you might not always see everything that could be happening with your interior plumbing. In areas like your basement, for example, you often find the hub of the network of pipes in your home stretching out from the service line brought in from the exterior. Any one of these offshoots could have a leak or a persistent drip, and more seriously, could be allowing the conditions for mold and fungal growth.

Because you might not be able to see the mold damages as they occur in your Farmington residence, since you cannot always see all of the plumbing throughout your home, it is possible to locate an active mold colony without ever actually seeing it. Often, mold colonies emit a distinctive musty odor that is difficult to mistake for anything else. Once you encounter this harsh odor, there is a good chance the mold colony is somewhere nearby. Professional mold remediation is a good choice here, as our SERVPRO certified applied microbial remediation technicians have the tools and expertise to deal with the problem safely and to remove it.

If the colony is in an area that is inaccessible, portions of drywall or paneling must get removed for our technicians to gain access to the area. This demolition is a controlled process which removes only the portions needed to get the appropriate access or what materials are unsalvageably damaged by the colonization. During the removal process, often using sanding or soda blasting techniques, our SERVPRO technicians run air movers and dehumidifiers to remove the moisture and dampness from the affected area to help starve the colony.

One of the things that can make the discovery of mold in your home a little easier to stomach is the knowledge that our SERVPRO of Burnsville / Lakeville certified technicians are always available to help. Our rapid response team is standing by, so whenever you need us, just call (952) 846-4400.

Click here for more information on the city of Farmington.